Details
P'tits Dessous pull-on pant is a real underwear for babies and kids up to 12 years, with 2 uses : training pant, or night diaper for enuresis. Nice, soft and comfortable, it helps your kid to grow up.
Absorbency :

Slim fitting :

Drying time :

Performance
soft but efficient leak barriers
bamboo and microfiber insert for maximum absorbency
Comfort
stretch fabric which lets your kid move
soft and breathable cotton
wide elastics which don't leave marks
Coolmax "stay-dry" liner for comfort and sensitive skins
Practical stuff
pull-on pant, to help your kid grow up
snap-in insert which doesn't move
économical : change the insert, reuse the pant 2-4 times
wash at 40°C or 60°C, air dry pants, inserts can be machine dried
Safety and environment
Hypoallergenic : all fabrics are Oko-Tex Class 100 certified
Bambou from FSC certified forests
Quality and warranty
technical bamboo fabric, made to last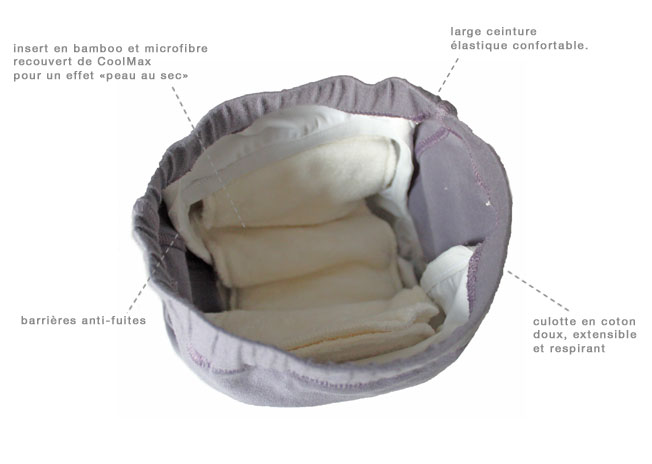 Content :
Pants : 90% cotton, 10% spandex
Waterproof liner : 50% polyester, 50% polyurethane
Insert : 38% bamboo viscose, 62% polyester
Use
The P'tits Dessous pull-on pant must be used with its insert.
Daytime
Change the wet insert and replace it with a dry one. The pants can be re-used several times if dry. You can buy additional inserts.
Naps and night-time
If your kid is a heavy wetter, add a booster.
For poop
All our cloth diapers can be used with our biodegradable liners for easier poop disposal.
Sizes
18-24 months : 8-11 kg
2-3 years : 10-15 kg
3-6 years : 14-20 kg
6-9 years : 20-30 kg
9-12 years : 30-40 kg